I was perusing the web for photo ideas for Baby G-O's one year shoot and I stumbled upon these precious pictures: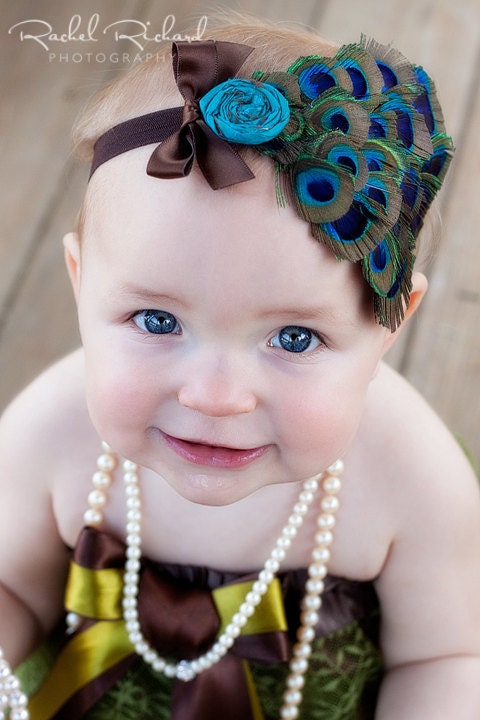 (Photo by Rachel Richard Photography, found on etsy
here
)
(Much larger photo from rmrr21 found
here
)
What struck me about these pictures are how the olive green and bright teal colors make the girls' features pop. They especially stood out because my little G-O baby has gorgeous hazel eyes. Her irises are rimmed in blue that transitions to green, which further transitions to brown around her pupils. With that said, a peacock headband and a blue/green/brown outfit would really make her sparkle.
So, then I began looking at peacock headbands to buy. The headband above is $19 on etsy, which really isn't bad...I just didn't want to spend that much on an accessory that my little girl will likely mangle and won't wear longer than a couple minutes these days.
Then I looked at ruffly little rompers like this one: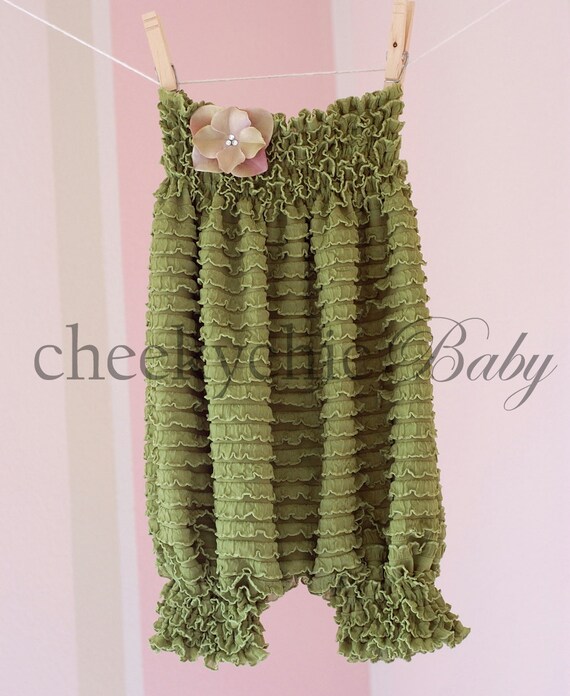 (By Cheeky Chic Baby on etsy, found
here
)
The romper is absolutely adorable--again, I just don't want to spend $45, plus shipping. That and, once I pinned it on Pinterest, I got
so many
repins of it that I knew lots and
LOTS
of precious tots would soon be dressed up in the same outfit. Sigh. I wanted something more unique.
So, I was strolling through JoAnn's and I happened upon some clearance silk taffeta in just the right colors. I snapped up the remnants on the spot. Honestly, I had no idea what I was going to do with them, but I figured I just got a new sewing machine for Christmas and I might find a pattern or...who knows?
Well, I finally did something with them. Now, please go easy on me. I only had a few hours this last Saturday to whip up something. I did
not
have a pattern and I am a
total
novice
. Sure, I took a costuming class in college...but we
never
made
anything
. We just learned a couple basic stitches and sewed straight lines on one single piece of fabric. End of sewing lesson.
Knowing that, I did not attempt any kind of tutorial. I didn't even measure anything. I eye-balled my fabric pieces by holding up the uncut pieces of fabric to my constantly moving G-O baby and then made sure my cuts matched. However, I knew I wanted to fashion something that could grow with my baby girl and that could be layered so it could work in any kind of weather. That led me to go for more of a bib-style dress with tie-shoulders and elastic at an empire waist.
Working without a pattern, start to finish (with several breaks to do diaper changes, feed snacks, make lunch, etc.) it took me about four hours to make this, including time spent ironing along the way. Here's what I ended up with:
I didn't get a photo of my little one in it yet, but it looks cute. Right now, the dress is more of a floor-length gown, which I love. As she grows, we can always layer it over a sleeved shirt and adjust the shoulder ties for comfort. I can always remove or adjust the elastic in the casing as needed, too.
Oh, and I failed to mention that I found a great peacock headpiece at JoAnn's that same day and I made a headband for under $10. I haven't snapped any photos of it yet, either. I'll try to remember to update this post with pictures of the headband...but I can't make any promises. These next few weeks are going to be non-stop for our household. Whew.
Update: Here's a quick snapshot of the peacock headband. Not too shabby, eh?