I did not have one of those childhoods where your family has roots in a community and you grow up in one house in the same neighborhood with lifelong friends.
We were more like nomads...moving from apartment to apartment, city to city.
Don't get me wrong. One upbringing is not better than the other. I enjoyed many benefits from moving fairly often.
One of the things that I missed out on, though, was the stereotypical markings in a door frame to note your growth through the years. You know what I'm talking about? They often show it in family-type movies. I know it's such a small thing, but it became kind of a symbol to me of growing up in a real community. It's not just in the movies, either. I remember going over to friends' houses and seeing the markings on their walls or doorways noting the dates, ages, and names of the kids as they grew. It always held a special place in my heart--dunno why.
Being a new mommy in a metropolitan area, knowing that odds are we'll move several times, I still want a way to track our family's growth. I just need something portable. I found this growth chart on Pinterest: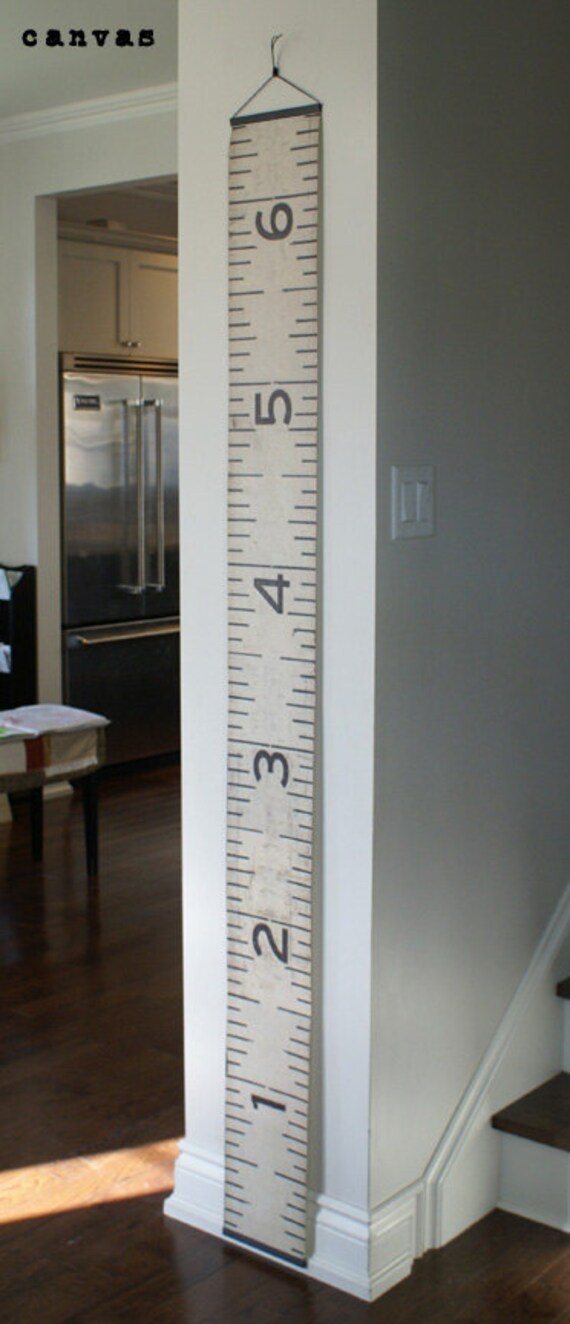 (The Brimfield Growth Chart by Karen on Etsy, found
here
)
My hubby was trying to purchase it for my birthday earlier this year, but it was back-ordered. Being impatient and all, I decided to try and make my own personalized version.
Off I went to JoAnn's (again), with coupons in hand. I knew the growth chart above was printed on artist's canvas. I had already looked at rolls of primed canvas, but knew I would never get around to using that much...so the price was way too high for my smaller project. Instead, I purchased a half-yard of 60" outdoor canvas and asked the cutter to cut it in two equal pieces (each piece finishing 60" long by 9" wide). Woo-hoo! I now had the basic fabric for my custom growth chart.


At first, I thought I might use iron-on transfer paper. I bought a pack at Michael's (using another coupon), but after a quick test learned that the white areas that are not cut off the transfer remain completely opaque and glaringly white. Bummer. The font I planned to use had WAY TOO MANY jagged edges to make that a hassle-free endeavor.
So then I tried permanent marker on another scrap. Nope. It bleeds. A LOT. Lastly, I tried acrylic craft paint.
It worked.
So here's what I did: 1) I stitched the two pieces of canvas together on one seam, short-sides together to make one really long strip of canvas. 2) I used stitch-witchery to iron seams on all sides to keep the fabric from fraying.
3) I used pencil to mark out the inches on each long side of the canvas and to freehand the numbers at each foot mark. 4) I hand-painted the measure marks, numbers, and letters on our growth chart. Here's the finished product.
I still need to decide how I want to hang it, but that's for another day. Right now I'm just thrilled I got it done. (That's a big accomplishment right now...)
I gotta say, I'm actually really pleased with how it turned out! We now have a portable growth chart, specialized for our little family that coordinates with our style--and is 100% unique and handmade with love. It's not professional by any means, but I kinda like that about it. I can't wait to find the perfect place to hang it in our *hopefully* new place. Hurrah! I get to start a new tradition with my family.
I love it!